You may not have had a chance to hear Vance speak, but these people have, so please listen and read what they have to say.
Rave reviews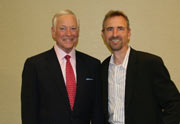 "Vance, your speaking is inspiring and life changing. Not only do you motivate, but you give practical steps to follow. Very powerful and your book will transform lives.!"
Brian Tracy
Speaker
Author of "Reinvention"
Brian Tracy International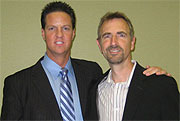 "Vance is a powerful communicator. His passion and authenticity on stage leave audiences inspired and filled with hope. His practical teaching gives them clear steps to follow that will transform their lives."
James Malinchak
"Two-Time College Speaker of the Year!"
Co-Author, Chicken Soup for the College Soul
Star of the TV show, The Big Money Entrepreneur™
www.Malinchak.com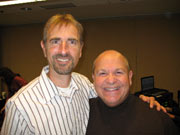 "Vance is dynamic on stage. People sense his integrity and that he cares about them. His speaking is inspiring and life changing. Not only does he motivate, but he gives practical steps to follow. Very powerful!"
Gary Zelesky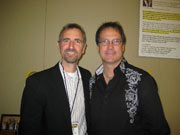 "Vance, what a fantastic speaker!
You capture people's hearts with your personal stories, your intensity and your passion. Rock On!"
Craig Duswalt
Kimberly Romero
Principal
Limitless Today
"My business has been transformed. Vance helped me get a $60k contract"
Mike Lafferty
Principal
Jiloa Consulting
"Vance is a dynamic speaker!"
Dr. Russ Sheppel
Dentist - Developer
Sheppel Enterprises
"Vance shines, he's a gifted communicator."
Audio Recommendations
Kathy Young
Homeschool and Ministry Events Coordinator
"Extremely inspiring – positive – passionate. He makes even a large audience feel like they are the only one's in the room."
Rae Johnson
Health and Weight Coach
http://findbodymagic.com
"We have been so impressed with yoru passion. You touch people's hearts."
Sunny Nunes
Technician II
Del Monte Foods
"Vance brings value when he speaks. Everything he says hits my heart. One of the top five encouraging people in my life."
Barb Hasey
Owner
Addvantage Bookkeeping Services
"Vance is very motivational. Very relational and likes people. I look forward to hearing Vance speak because I'm always empowered by him."
More Rave Reviews
"I recommend Vance Hardisty to you enthusiastically and without reservation."
Samuel R. Schutz, M.Div., Ph.D.
Professor - Gordon Conwell Theological Seminary
"Vance's own journey into a deeper authenticity, blend to provide obvious value in a teaching venue. He is intelligent, intense, engaging, catalytic, modest and approachable."
Doug Stevens - Director - The Renewal Project
"Vance is a visionary and a vivid and articulate communicator who has a passion for challenging people to accomplish the extraordinary ..."
Arend J. ten Pas - Teacher - Berean High School
"There are few people who can marry passion with articulate and persuasive communication as well as Dr. Vance hardisty. He weaves stories into his talks, engaging both the mind and the emotions, and takes his audiences on a journey where time passes fast and people are left wanting more."
Jeff Reed - Senior Pastor - Hillside Covenant Church
"Vance is a dynamic speaker. He is clear on what the message is and people are inspired, persuaded. Hearing him, they have a lot of fun and leave feeling good."
Mike Lafferty – Principal – Jiloa Consulting
"Vance shines when he speaks. I still remember and have the recording of a message he taught many years ago. He is a gifted communicator and from an integrity standpoint I know of no one who walks the walk as well as he does."
Dr. Russell Sheppel – Dentist – Developer
Book Vance
Click here
to book Vance for your next event.