&nbsp
&nbsp
&nbsp
Tough Times in Business?

Here's how to make those times work for you.
What happens when the economy goes sideways, there are internal conflicts, the company has grown too fast or any number of pressures threaten to derail your dream? These are the times that either will break you or make you into what you were meant to be.
What you'll learn:
How the struggles can be your company's greatest ally
How people can view frustrations in a completely different light
3 life changing tools that will enable people to stop complaining and start learning
The secret that allows people to see pressure for what it is designed to be
Vance will enable you to:
Create a positive, dynamic atmosphere that will enhance everyone's outlook and accomplishments
Develop resiliency that promotes successful daily habits
Become people who can transform themselves and the company they are in
The power of this presentation comes from Vance's personal experience - the complete loss of health and 14 failed businesses. Drawing from this wealth of experience, he shows you how to discover phenomenal lessons you can't learn anywhere else. Don't be discouraged, be encouraged, you are on the brink of business, relationship and personal breakthrough!
Leadership Secrets

What the greatest leaders of history understood
The greatest leaders in the world, those who left the most incredible legacies, understood a seldom spoken, yet indispensable and powerful secret -
servant leadership
. Using the lives of leaders from politics, sports, history and religion, Vance shows how you can utilize the little known keys of greatness effectively to transform the world of business.
What you'll learn:
Why many leaders find it difficult to lead effectively
How to get people to follow you, and enjoy it
The one core belief that you must have as a leader and how to get it
The trap many new and established leaders fall into that subconsciously destroys their influence
3 keys to lifting other people's spirits and inspiring hope for tomorrow
Vance will enable you to:
Lead successfully, understanding the secrets to giving people a vision for the future
Enjoy a more effective leadership with a team that respects and admires you and your direction
Confidently approach each project knowing the keys to successful team leadership
Great leaders are not necessarily those who have the biggest name and reputation in business, greatness is about those who leave a legacy with their lives.
Rave reviews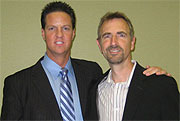 "Vance is a powerful communicator. His passion and authenticity on stage leave audiences inspired and filled with hope. His practical teaching gives them clear steps to follow that will transform their lives."
James Malinchak
"Two-Time College Speaker of the Year!"
Co-Author, Chicken Soup for the College Soul
Star of the TV show, The Big Money Entrepreneur™
www.Malinchak.com
Kimberly Romero
Principal
Limitless Today
"My business has been transformed. Vance helped me get a $60k contract"
Mike Lafferty
Principal
Jiloa Consulting
"Vance is a dynamic speaker!"
Dr. Russ Sheppel
Dentist - Developer
Sheppel Enterprises
"Vance shines, he's a gifted communicator."
Book Vance
Click here
to book Vance for your next event.